Hey Friends! So I've already told you all about my favorite itineraries over 5 days in Maui, 3 days in San Francisco, and 2 days in Rome, but how about this time we spend a few days in the beautiful city of Charleston!
If you're dreaming of a weekend getaway filled with southern charm, rooftop patios, beaches, and beautiful scenery, then the historic Lowcountry city of Charleston should be at the top of your travel list. With the many sights and flavors to take in, you'll want to plan for at least three days in Charleston.
Disclaimer: Some of the links in this post, like hotel links, are affiliate links, meaning at no additional cost to you, I make a little bit of money if you click through and book. That being said, I would never recommend something to you that I don't stand behind 100%.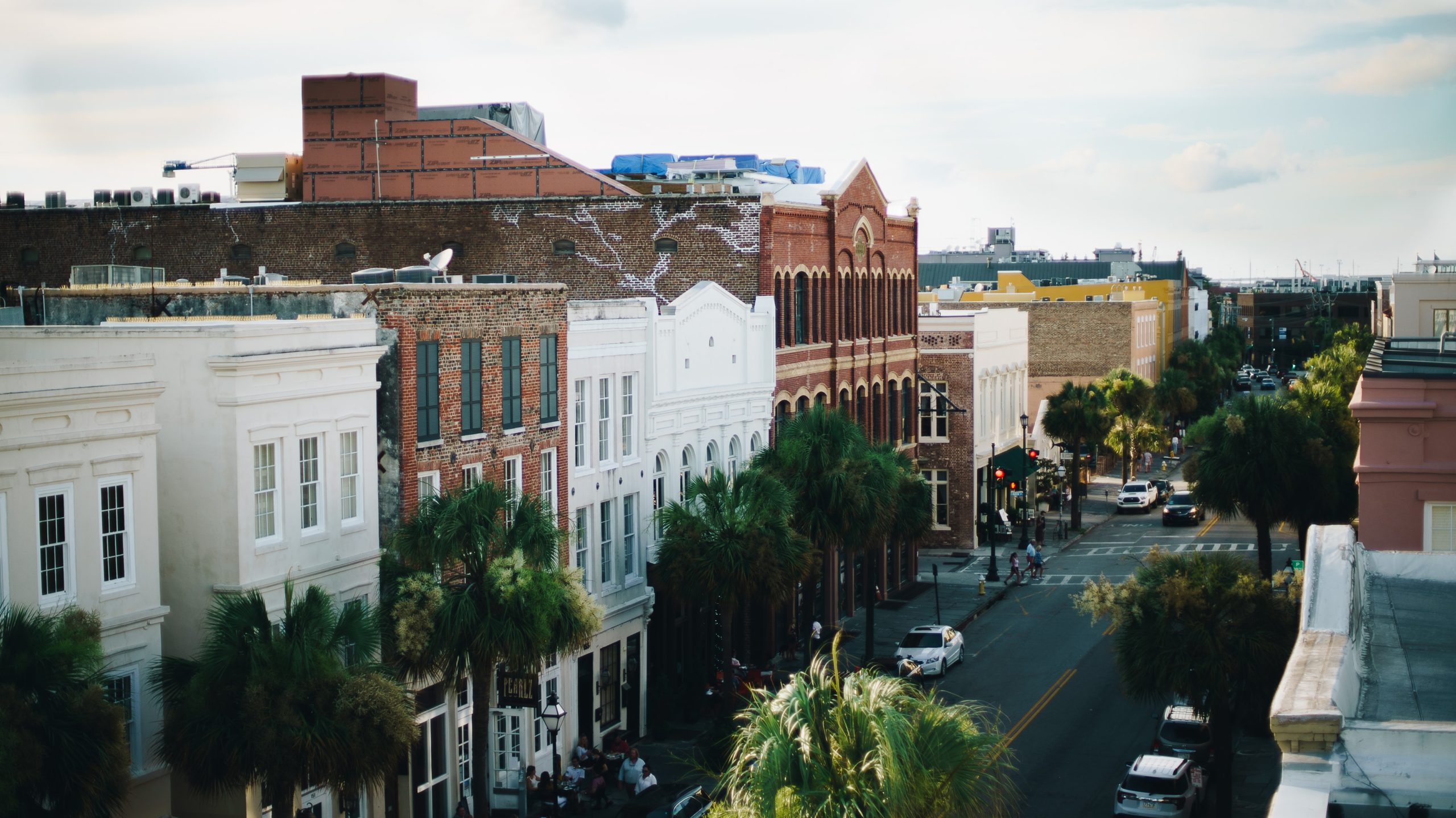 When to Visit:
South Carolina gets exceptionally hot and humid during the summer so the best time to visit and avoid the muggy air is in early April to late May, or from September to October. If you are visiting during the summer months, you'll want to plan a full day at Folly Beach to cool off!
Where to Stay:
There are so many great boutique hotels in Charleston. My favorite is The Vendue – Charleston's Art Hotel in the Historic District, or the Emeline – a trendy 19th-century hotel.
Getting Around:
Downtown Charleston is very walkable! In fact, the best way to take in the city is to walk down the cobblestone streets so that you don't miss any unique stops! If you want to maximize the amount of the city you see, I highly recommend biking around with Holy Spokes – an affordable and convenient bike-share option. You can either pay-as-you-go for only $8 an hour or use the day pass option for just $20 a day. There are over 25+ bike corrals around the city so you can pick up, and drop off the bikes at your convenience! When visiting further destinations, such as Sullivan's Island or Folly Beach, you'll need to rent a car.
Day 1
The best way to start your morning off in Charleston is with brunch at Husk. Located in the heart of Downtown Charleston and just off King Street. Husk features classic southern dishes such as shrimp and grits, freshly shaved ham, and bloody marys.
After brunch, it's a quick stroll over to the Historic Charleston City Market. The City Market spans over 4 city blocks and is one of the nation's oldest public markets. All of the vendors at the city market are local and sell locally made products so you know you are getting an authentic experience. If you're looking for the perfect low country souvenir to bring home, be sure to grab a quintessential sweetgrass basket! As Charleston's main attraction, you can be sure there is always something going on at the market, day or night, however, I suggest going early to avoid the crowds.
After moseying around the market for hours, you'll be ready to relax on a rooftop patio for some well-deserved lunch! I recommend the Rooftop Bar at the Vendue, located in the French Quarter. The Vendue has been voted as Charleston's best rooftop bar every year since 2007 and offers expansive views of the Charleston Harbour, Waterfront Park, and more. If you're in the mood for a fun cocktail – I highly recommend the Red Moon Margarita. It's flavor like you have never experienced before. The Vendue is also a boutique hotel and is known for its antique art, ensuring every room is utterly unique.
After lunch at the Vendue, spend the rest of the afternoon strolling through the quiet and narrow streets of the Historic District. A few of my favorites are Church, Cumberland, and Queen Street. These streets are lined with boutiques, art galleries, and historical monuments. Take your time and enjoy the southern hospitality downtown Charleston has to offer!
Day 2
Start your morning off by grabbing a quick bite and a coffee at Normandy Farm Artisan Bakery, before making your way to Rainbow Row – the iconic, pastel Georgian rowhouses. I highly recommend getting there early to avoid the crowds and take in the serenity of this historic street.
Next up, Waterfront Park – another essential stop on the Charleston bucket list. This iconic 8-acre park features the Pineapple Fountain – where wading and splashing are both welcomed! This is the perfect place to cool down on a warm day and where adults can act like kids, and kids can be kids! Why a pineapple? The pineapple is a traditional symbol of hospitality and the Pineapple Foundation is a life-size representation of the hospitality Charleston has to offer!
Next up, the golden hour on one of Charleston's most famous beaches – Sullivan Island. Sullivan Island is a 20-minute drive from downtown Charleston.
Commonly known as the Charleston Light, the Sullivan Island lighthouse was built in 1960 and is the perfect setting for a southern weekend getaway. I love getting food from my favorite island restaurants, The Obstinate Daughter, Dunleavy's Pub, or Acme Lowcountry Kitchen, and enjoying a picnic on the beach while watching the sunset.
Day 3: Folly Beach
If you're visiting on a warm weekend, you'll want to ensure your trip includes a day at Folly Beach! Folly Beach is an easy 30-minute drive south of downtown Charleston and is well worth the trip. Folly Beach is the perfect location to either kick up your feet and relax on the beach or get your activity fix by surfing, fishing, paddle boarding, or kayaking. There are several surf and rental shops located at Folly Beach so you can travel light and rent what you need! The Folly Beach Pier is another bucket list experience. The 1,045-foot-long pier is the second-longest on the east coast and offers a host of activities including, fishing, dining, live music, and picture-perfect views. While at Folly Beach, I highly recommend you eat at Taco Boy – rated as one of the top 5 restaurants in Folly. Enjoy a margarita and fish taco while taking in the laid-back beach town vibe. If you're at Folly Beach in time for brunch, I recommend the Lost Dog Café – yes dogs are welcome!
Enjoy your time in the southern gem of Charleston and don't forget to take a ton of pictures and check out my post on how to take an aesthetic photo to see how to get the most Instagram-worthy photos!