Welcome back! I want to tell you about one of my favorite and most eye-opening travels as of late: Thailand. What an amazing and unique country. From the friendly people to the diverse landscapes of jungles, mountains, islands, and big cities, Thailand truly has it all.
Taking a trip to Asia can be a daunting experience because Asian culture and language are so different from Western culture and language. Your mind might reel with questions and I hope to put your mind at ease; have no fear! Thailand is the perfect gateway to Asia.
It has a well-worn tourist infrastructure and the majority of residents speak some English, which makes traveling around Thailand extremely easy. I was also a little intimidated to take on Asia as a solo female, but I can assure you traveling here solo is so easy and safe. Tour companies on every corner make getting around seamless, hostels make meeting people easy and touristy areas and friendly locals made me feel very safe.
Logistics: When to Go, price points, and how to get there
Thailand has a monsoon season from May to October, so unless you're fond of the rain, you might want to avoid these times. That being said, if you do find yourself there during these months you can still enjoy yourself catching the sun when you can. I planned my trip for January to avoid the rainy season and get out of the cold of winter at home!
Thailand is an affordable place to travel, which means you can plan a long trip and still not break the bank. If you want to travel on a shoe-string budget, cheap hostels and local meals make this very easy to do. You can also travel in luxury easily too and still be getting more for your money.
That being said, I would try to plan at least two weeks to a month for Thailand. If you have the time, it's totally worth it. It's such a long journey from the States that you'll want to have enough time to adjust to the time zone and enjoy yourself in each location! I stayed a little over two weeks there and made it work just fine. The length of time you're there just changes how you get around really, i.e. buses versus flying to save time in transit.
The best place to start and end in Thailand would hands down be Bangkok. Bangkok is a bustling city with lots to see and do on its own, but the international airport makes it the obvious first stop. It's also a great introduction to Thailand to get your bearings and wet your feet a little bit.
Before embarking on your trip, make sure you check which visas you will need to enter Thailand. Americans do not need a visa; we are granted 30 days upon flying in and 2 weeks crossing the border on land. It is recommended you have 6 months of validity left on your passport to avoid being denied entry. (I would recommend this for most travel anyway).
Bangkok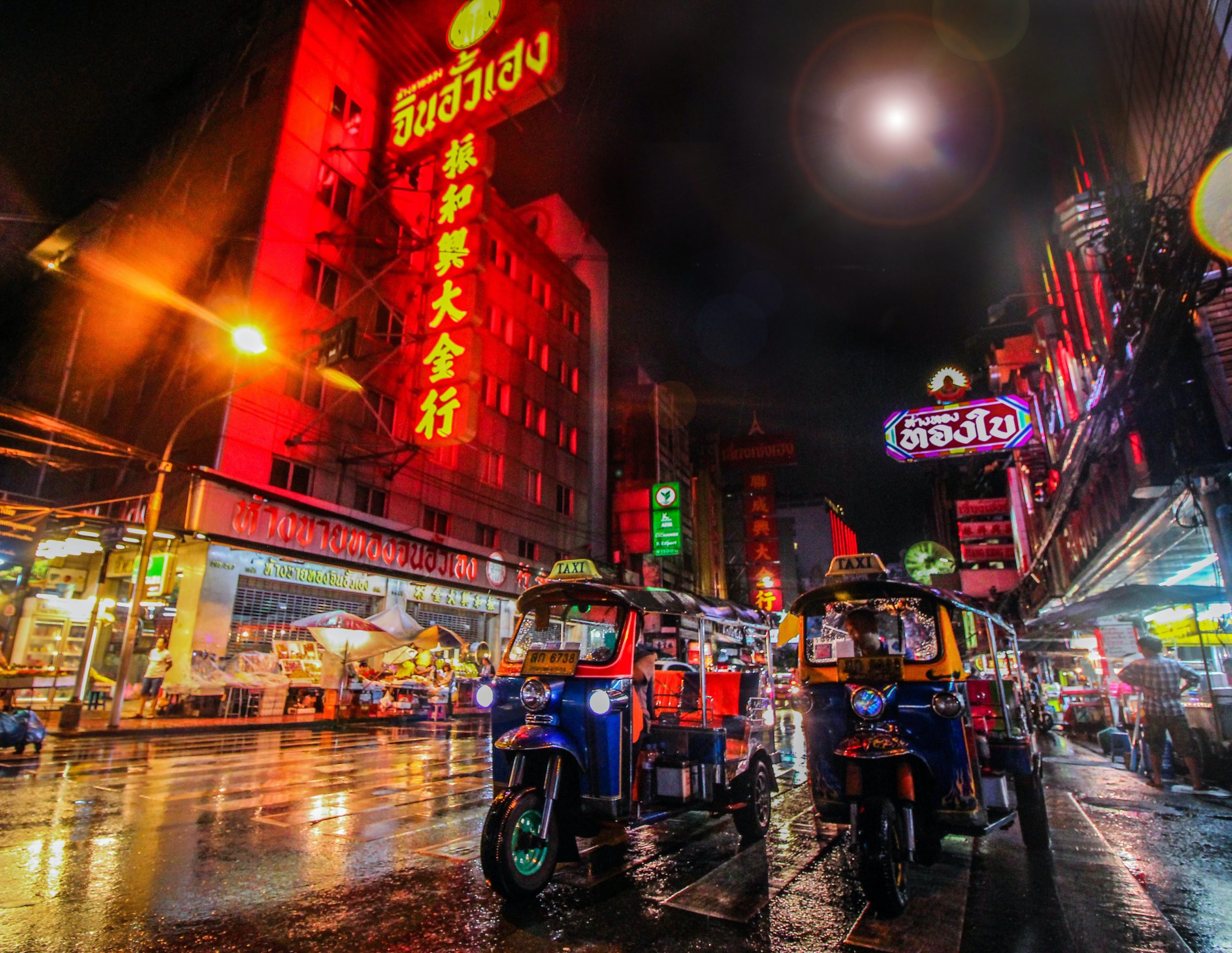 Upon arriving in Bangkok, you can grab a metered taxi from the airport. I stress metered because these taxis are monitored and will not rip you off. I recommend flying with cash and hitting the money exchange at the airport so you can get around using local currency. Another good tip is to learn how to say "hello, please, and thank you" in Siamese as it shows respect for the culture and country.
Twenty minutes from the airport is Khao San Road, which is the touristy expat area of Bangkok. When I mentioned the gateway to Thailand, this is what I meant. This road is full of hostels, restaurants, massage parlors, souvenir shops, advertisements to see "lady-boys," tuk-tuks yelling at you for a free tour, and much more — it really is sensory overload when you first arrive (in the best way). It's a great place to start since it throws Thailand in your face while simultaneously feeling the safety of speaking English and being surrounded by tourists.
I opted for a nicer hotel on Khao San Road as I needed to decompress from the travel. The hostels can be a bit run down in this area so it might be best to splurge a little here — they are still really affordable. I chose Ibis Styles which was still only $22 USD per night!
I recommend you spend two to three days in Bangkok exploring the city. Take a tuk-tuk ride from Khao San Road for less than a dollar to some of the local Buddhist statues, monasteries, and parks. The catch of these cheap rides is that they will take you to one of their friends or relatives shops and try to persuade you to buy a cheap suit. Don't worry, you don't have to buy anything unless you want to, but peruse around to entertain them.

Some other Bangkok sights include The Grand Palace, Chatuchak Weekend Market, The Bangkok Art and Culture Center, and Wat Arun. You can easily wander the city, check out the markets, get as many Thai massages as you can stand, and immerse yourself in the city life and have a packed three days. I got a little bit lost in Bangkok and went with the flow, loving every minute of it. Also, make sure you take plenty of pictures and check out my other post on how to take aesthetic photos to make sure you come back with pictures to brag about!
Phuket, Thailand
After your time in the big city, you can head north or south. You'll most likely come back through Bangkok on your way out so don't worry about things you missed. If you are tight on time you can fly from Bangkok to Phuket for under $100 USD and it's an easy trip. If you are fortunate to have enough time you can take an overnight bus for under $10 down south — the only problem with that is it's a long bus ride.
I had some time and wanted to get the full experience so I took the bus. I used Bus Buds for my bus trips around Thailand and it couldn't have been easier. You can also pop into any of the local businesses and they will sort you out with a ticket or combination of tickets to get where you'd like to go. It really is so easy.

Phuket is a mountainous island in the Andaman Sea. It is covered in rainforests and has stunning beaches with long stretches of white sand. It's also a busy little island with lots of cool beach bars, town bars, and hostels with colorful porches and vibrant restaurants. It's laid back and you can relax or find a party. I wanted to scuba dive, so I found a great dive shop called All4Diving to take me out. If you're thinking about diving or even want to get certified while you're there, the water is nice and warm and so clear! The reef is alive and there is a diverse array of marine life to appreciate.
Railay Beach, Thailand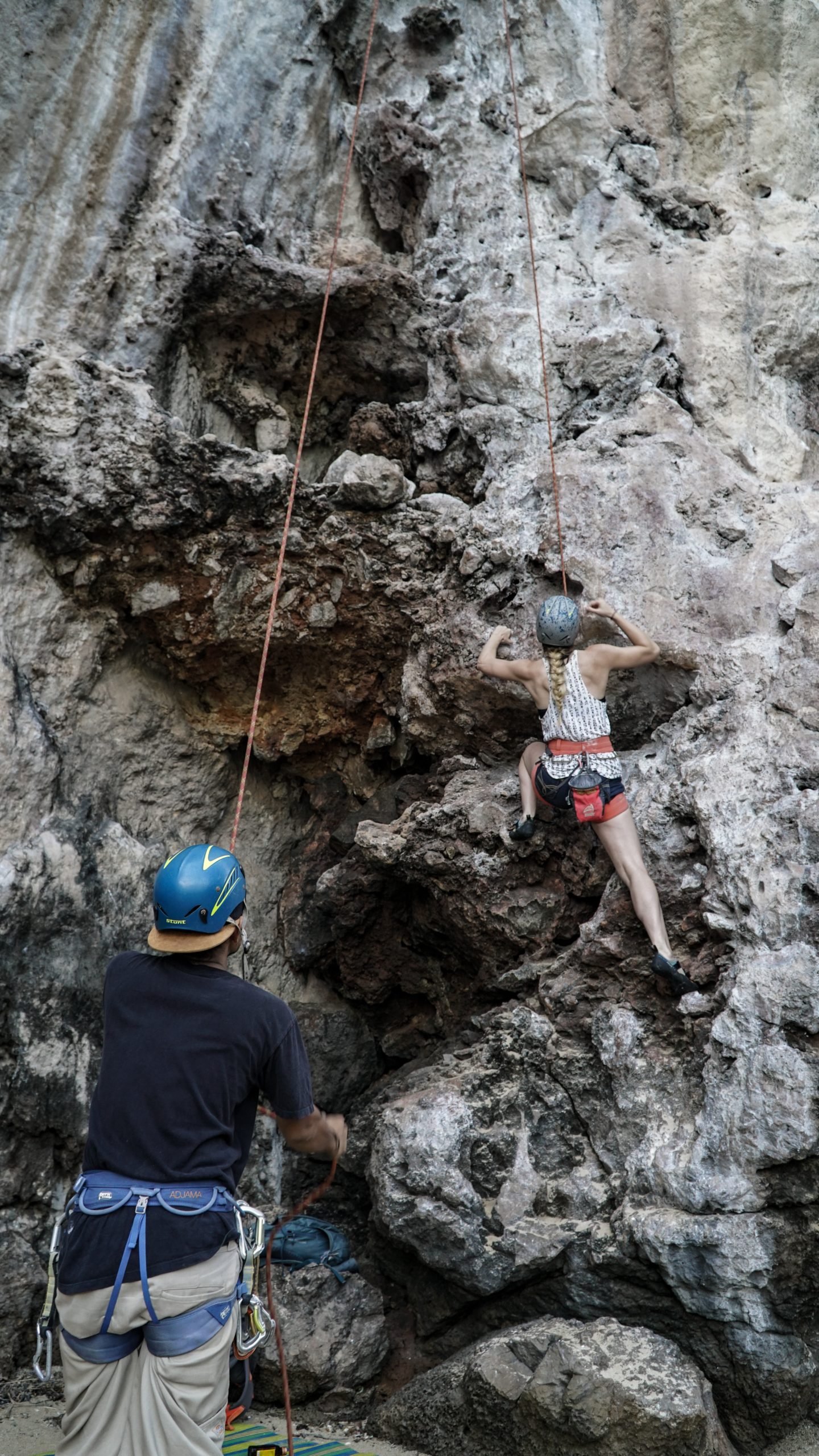 A lot of this trip for me was unplanned, to be honest, or I had plans and then ditched them when someone told me about something cool. It's that type of place. The transits are cheap and easy and I wasn't too pressed for time so I went with the flow. Railay Beach was a place that was recommended to me by some backpackers I met in my laid-back Phuket hostel, Vitaminsea. I hung out with this group for a couple of days and they insisted I go.

An easy ferry ride with Amazing Lanta from Phuket to Railay Beach. This place was stunning! Steep rock faces overhanging turquoise seas lined by white beaches with tables and bean bags all over to hang out and drink fruity cocktails — my type of place. Railay Beach is a big destination for rock climbers who want to scale these steep cliffs, but if you're not into that you can hang on the beach or hike through the rainforest. I splurged a little and stayed at the Railay Beach Club (which was still under $40/night).
Chiang Mai, Thailand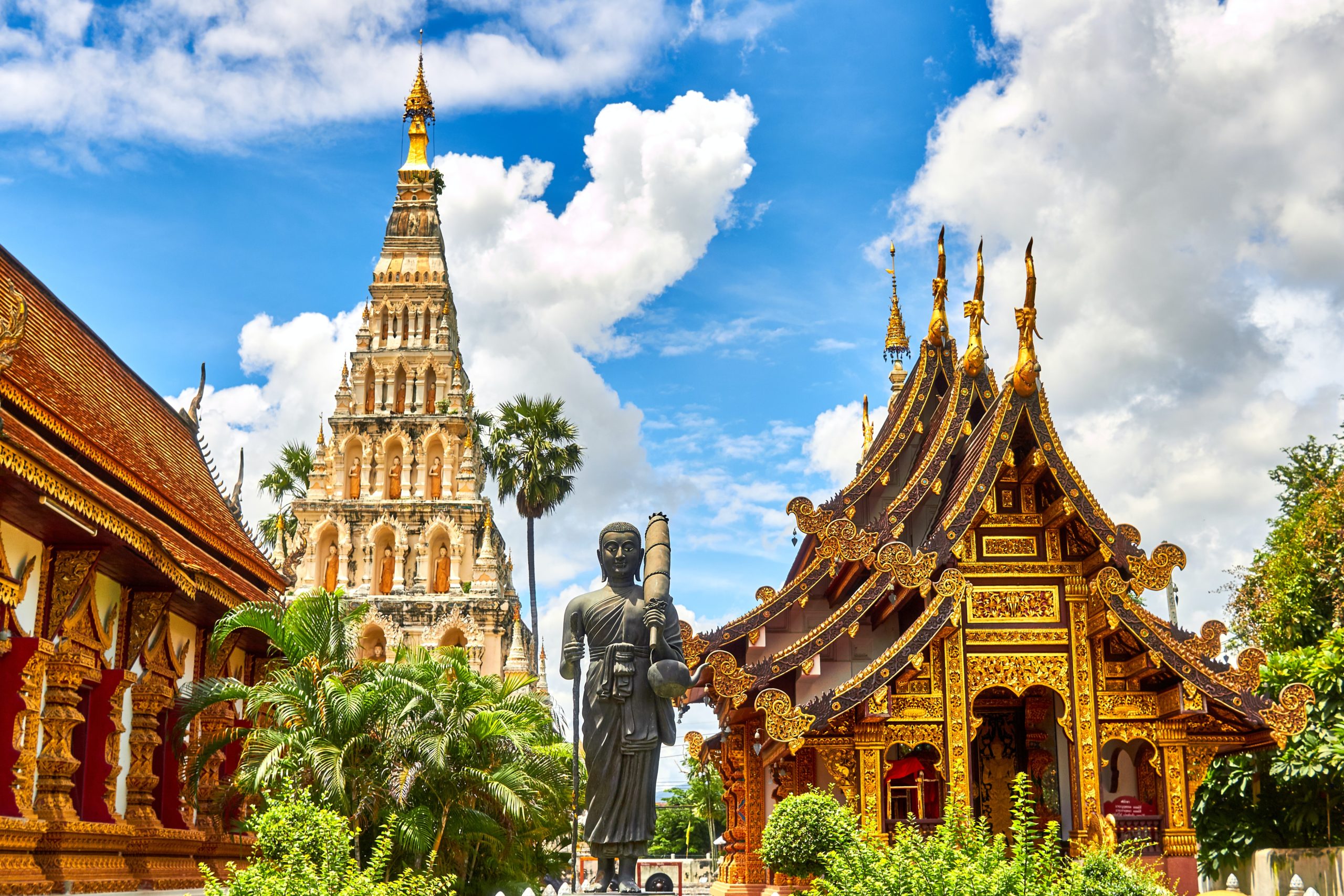 After a relaxing 6 days (longer than I had planned) in the southern islands, I made my way to the North of Thailand. Instead of taking two, 16-hour buses, I decided to maximize my time and fly. Flights are two hours from Krabi (20 minutes from Railay Beach) to Chaing Mai and less than $100 USD. Again, easy.
Chiang Mai is the biggest city in the north and there is a ton to explore within the city and its surrounding areas. It is mountainous with thick rainforests that allow for some amazing trekking. I spent my first day in Doi Suthep–Pui National Park which is full of waterfalls, cool rainforest hikes, and beautiful pools of freshwater. There is also a big Wat (temple) in the park that is stunning.
Also in Chiang Mai, make sure you check out the Night Bazaar (market) which is full of entertainment and amazing food. I went three times while I was there and it was a treat every time. I also highly recommend checking out the Long Neck Karen tribe which is a tribe from Myramar that lives in a small village outside of Chiang Mai where they immigrated after unrest in their country. I hired a local knowledgeable guide to give me a tour using Get Your Guide services.
All in all, Thailand is one of my top favorite international destinations for the ease of travel, the incredible culture and food, and the diverse and vibrant country. I always felt safe there traveling solo and often met fun groups of people to hang with for the day (or a couple of days) as we explored our new surroundings together. From the cities to the beaches and mountains, I really feel like I got to see it all! And if you get home from this trip and still have the itch to travel, take a look at my guide on solo travel in Iceland and start planning today!