If you're planning a trip to Canada and don't know where to start, check out this post for a road trip itinerary through Western Canada. I will give you all the details about Vancouver, Vancouver Island, Whistler, and Banff National Park in the Canadian Rocky Mountains. The itinerary includes all of the must-see sights, restaurant recommendations, and more!
Let's go to Canada!
So, I was trying to think of a vacation to get the family together with minimal travel times (from the States) and maximum adventure. Turns out, Canada is a fantastic option to tick both of these boxes. I have some Canadian friends so I asked a lot of questions from the locals to find out where to go, which was super helpful.
My family and I were planning a June trip and my friends unanimously said to check out Western Canada. My friends spoke of mountains, glaciers, and the gorgeous Pacific coastline – which sounded like a dream. It is a huge country, so it's better to explore a section of it without rushing around trying to see it all. I have detailed what we did for our trip around Western Canada to help you plan your trip. Check it out!
Day 1: Vancouver, British Columbia
After getting a rough outline from friends, I also did my own research to make sure we hit all the sights. We flew into Vancouver International Airport, which is conveniently only seven miles from Downtown Vancouver.
We decided that we would explore by car for the next ten days, so we rented a car at the airport. It was recommended to do a one-way road trip to Calgary and fly out from there. After a short drive to town, we arrived at our hotel, The Pan Pacific, right on the harbor. I figured if we were going to be in this seaport town, we might as well stay on the water!
So now, what to do in Vancouver? Well, Vancouver is situated in proximity to the water and the mountains making the options endless. With an afternoon left on our first day, we decided to wander around downtown and get a feel for the city. Vancouver's main "strip" is called Robson Street. Here, you can pick up souvenirs and pop in and out of the shops.
We ended our stroll at VanDusen Botanical Garden, which is 55 acres of a beautiful garden world with over 7,500 species of plants. Everything is impeccably manicured. It has lakes and ponds with lily pads and even a garden maze! We had such a relaxing day in the garden.
Day 2: Nanaimo, Vancouver Island
On the morning of our second day, we packed up the car and headed to the Tsawwassen Ferry Terminal to take a gorgeous ferry ride to Vancouver Island. You wouldn't believe how much there is to do there!
We got off the ferry in Nanaimo, which is one of the "hubs" for Vancouver Island. It's an adorable coastal town with lots of cute coffee shops, stores with unique and local gifts, museums, and art galleries. Fun fact: the town is named after a dessert called the Nanaimo bar — a no-bake cookie with a custard filling. You have to give it a try while you're there!
The hotels were nothing special, so we decided to get an Airbnb. We opted for the "cozy waterfront cottage" that was very affordable and very close to town. It couldn't have been more perfect to get a local vibe of the area.
We spent the day wandering in and out of art galleries and gorged ourselves on all of the amazing restaurant options. My favorite spot that we stopped was Hill's Native Arts because it featured all of the native masks, paintings, and sculptures. The local art has a very distinct style and a historic meaning to each piece. We had some awesome cocktails at Milton Street Public House which was a small, cozy bar with great cocktails.
Day 3: Hiking on Vancouver Island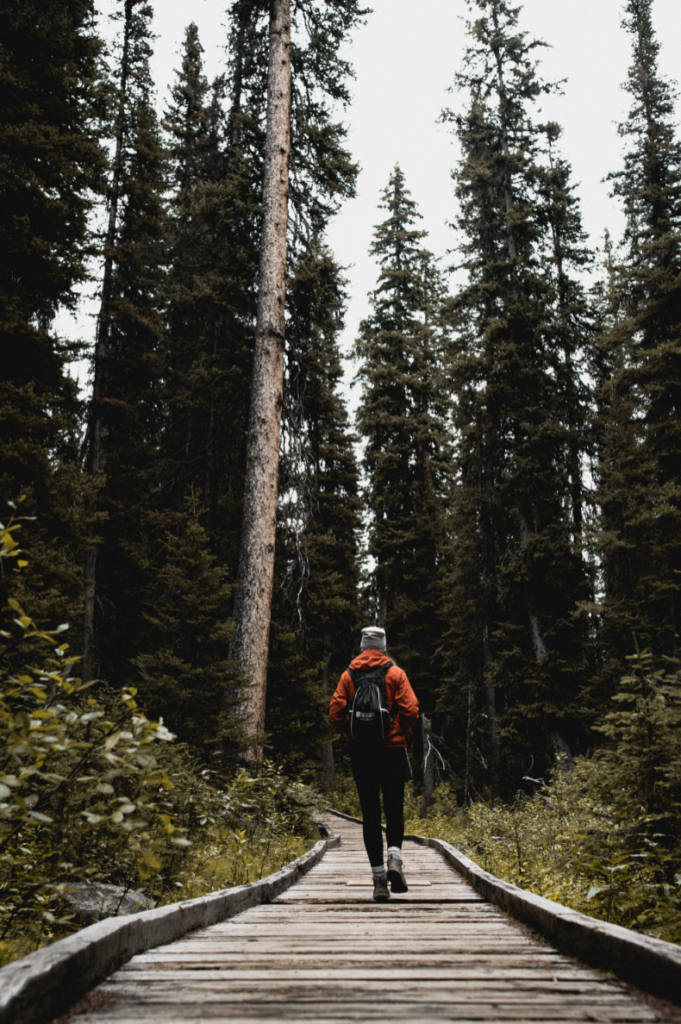 You can't go to Vancouver Island without checking out some of the hiking trails they're famous for. We woke up early and hit the road for a two and half hour drive to Ucluelet, which we read was the less touristy option for stunning hiking.
There are some long and treacherous trails for the die-hard hikers, like the West Coast Trail, which takes about seven days. But since we were a mixed group, so we found some easier hiking along the Wild Pacific Trail, at Ucluelet.
The trails in this area offer breathtaking coastal views while walking through ancient massive trees. The trails ranged from 2 kilometers to 8 kilometers, so you can pick how long you want to hike, which is a great option for novice hikers. There are lots of other hikes around the island. You can find the best hikes here if you want to hit them all.
If there are any photo buffs out there, the landscape makes for absolutely stunning picture taking. Also, if you need some tips, check out my other post on how to take aesthetic photos. We got a hotel in Ucluelet for the evening and rested soundly after a long day in the woods.
Day 4: Travel Day to Whistler
Canada is so big and spread out, so I would not do a road trip for less than ten days since some of the days will be used for getting from one amazing place to the other. Also, don't worry about spending a day traveling, the views are amazing the entire journey!
We left Ucluelet to head back to Nanaimo to catch the ferry back to the mainland. You could easily stay the entire trip on Vancouver Island alone, but we wanted to see a bit of everything. Once back on the mainland, we were bound for the ski town of Whistler! It was a beautiful (nearly) 2-hour drive North.
We got a little Airbnb (have you noticed these are my favorite?) right in town. Even though it was the summer, the town was alive with locals enjoying outdoor dining and live music. We got settled in our home for the next two nights and headed to check out the town.
Day 5: Exploring Whistler
There is a lot to do in Whistler in the summer. One of the things you can't miss is the Peak 2 Peak Gondola Experience. This was my favorite! The gondola connects Whistler and Blackcomb Mountains with an 11-minute ride across a 4-kilometer expanse. Below, you can see glaciers, the rainforest, and even volcanos — beauty as far as the eye can see. It's a short ride, but totally worth it. Pro tip: make sure to pre-buy your tickets online a day or two before you want to ride.
While you're on the Whistler side of the gondola, be sure to check out Cloudraker sky bridge. This suspension bridge spans over the Whistler bowl and offers panoramic views of the entire mountain. There is a lookout called Raven's Eye where you can see 360-degree views. It's breathtaking.
Also, on Whistler Mountain is Pika's Traverse, which is a walkway lined with huge snow walls on either side. As the summer goes on, the snow inevitably melts, so the best time to partake is in the early summer. It's a very unique experience.
Day 6: Travel Day to Banff National Park
Well, they don't call it a road trip for nothing! This was our biggest day traveling; we hit the road leaving British Columbia and headed for Banff National Park in Alberta, a ten-hour drive. While it was a long one, it was stunning the whole way and worth incorporating Banff into the trip. Welcome to the Canadian Rocky Mountains!
I would say the Canadian Rocky Mountains are a sight, turquoise lakes, towering snow-capped peaks, and the freshest air. We headed to Banff National Park and beelined it straight for the quaint ski town of Banff. We stayed at The King Edward Hotel, which was right in town and made restaurants and local sightseeing very accessible
Day 7: Exploring Banff National Park
Here we are in another ski town in the summer, but you know what that means! Hiking! We looked up some of the best hikes in the area and found ourselves at Tunnel Mountain Trailhead which is very close to town. Perfect. The hike was "moderate" and I would agree — it was challenging, but just the right amount. It took us about three hours with photos and stops.
We brought some lunch with us, so we ate lunch at a beautiful overlook. We had some time left in the afternoon so we did another little loop trail that took about an hour for some more beautiful views. I couldn't believe how accessible everything was and how easy it was to hike in the area — great for families.
We headed back to town for a nice dinner at The Bison Restaurant, which had a great terrace and some local cuisine. We turned in early to get ready for another day of adventure and hiking.
Day 8: Exploring Lake Louise
About a 40-minute drive from Banff is Lake Louise. This lake is fed by the Victoria glacier and it's turquoise! It has a stunning backdrop and there was still some winter ice lingering around.
We found an amazing hike up to Lake Agnes Tea House up in the mountains. You start the hike near Fairmont Chateau Hotel and the hike is, again, a "moderate" two-hour hike up to a family-run tea house. It has been a staple since 1905 and they don't even have running water. It was a very unique destination and we relaxed and enjoyed some well-deserved house tea at 2,100 meters!
We spent the evening after the hike hanging around the lake and exploring the trails at a lower altitude. It's pretty easy to explore the endless trails in this area, without much planning. Don't be afraid to not have a plan at Lake Louise. Relax and take in that gorgeous turquoise water.
Day 9: Off to Calgary
After two magnificent days delving into only a small area in the Canadian Rockies, I am completely in love with Banff National Park. It's an absolute must-see if you make it to Canada, but alas, we have to make our way to Calgary for our last stop.
It's only a short hour and a half drive to Calgary, which was the perfect end destination for our road trip. We had a slow morning and arrived around noon. We found an amazing lunch spot called The River Cafe. It's a little pricey, but worth it — great ambiance and fantastic food. I highly recommend it.
We spent the afternoon wandering around Prince Island Park, which is both free and beautiful. They have walking trails and flower gardens to meander through. It was the perfect place to unwind from the trip and enjoy some quality time with the family before we went our separate ways.
Day 10: Our Last Morning in Calgary
For our last morning, we found a lovely little breakfast place called The Bro'kin Yolk. The food was absolutely amazing. We lingered and enjoyed a couple of coffees and got ready to part ways.
All in all, I couldn't say enough good things about the trip! A road trip around Western Canada is the way to go. I can't wait to explore the rest of Canada, but given its enormous size, I would say Canada is best suited for multiple short trips. Stay tuned for Eastern Canada. 🙂